The journey of Justice Dr. Carey from the Caribbean to PNG
PNGCJE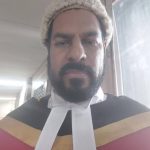 From an Executive Director for the Papua New Guinea Centre for Judicial Excellence (PNGCJE) to recently appointed Judge of the National and Supreme Courts of Papua New Guinea (PNG), the Honourable Justice Dr. John Carey knows well how tough it is to attain success.
It has been a long journey for the Honourable Justice Dr. Carey having been admitted as a lawyer in Fiji in 2013, the Cayman Islands in 2016, the Bahamas in 2022, and eligible for admission in the 17 Commonwealth Caribbean countries.
He is a lawyer with a practicing certificate in the Bahamas and Cayman Islands, respectively, and admitted to Fiji as a Barrister and Solicitor. "I practiced Law in the Cayman Islands, handling criminal and civil litigation and as a Consulting Lawyer in the Bahamas in civil litigation. In addition to my legal career, I have six years of experience as the Executive Director and Judicial Educator for the PNGCJE; I also had the privilege to be the secretary to the Board of the PNGCJE whose chair is the Chief Justice of PNG," Justice Dr. Carey said.
The Honourable Justice Dr. Carey also did pro-bono work in Human Rights in the Cayman Islands. He was also a Volunteer lawyer at the Family Resource Centre in Grand Cayman where he regularly provided free legal advice at a weekly legal aid clinic on a range of issues inclusive of employment, family (divorce, domestic violence, and ancillary matters), immigration, criminal and land law.
His Honour is a member of the:
1. Bahamas Bar Association;
2. Cayman Islands Legal Practitioners Association;
3. Papua New Guinea Human Resource Institute;
4. Fellow of the Commonwealth Judicial Education Institute;
5. Regional Council Member for Pacific, Commonwealth Magistrates and Judges Association; and
6. Former Council Representative for the Cayman Islands and current Member, Commonwealth Lawyers Association.
The Honourable Justice Dr. Carey is an Accredited Mediator in Australia and a Provisionally Accredited Mediator in Papua New Guinea having extensively been involved in improving Access to Justice.
He has also lectured at the Northern Caribbean University in Jamaica, the University College of the Cayman Islands and taught at the Secondary School level in the Bahamas in the mid-1990s.
Justice Dr. Carey has published numerous articles in international journals including the Commonwealth Magistrates and Judges Association Journal, Commonwealth Parliamentary Association Journal, International Organisation for Judicial Training (IOJT) Journal and International Journal of Insights and Transformations in Law on the subject of crime and justice, as well as topics related to judicial education, gender equality, and constitutional matters in the Pacific and the Caribbean.
Justice Dr. Carey has written the following books: Political Speeches from the Bahamas, National Discourse: Bahamian Perspective, Taxation: The Suitability of the Non-Direct Tax Regime for the Cayman Islands and Political Discourses.