Training on Anti-Corruption Legislative Reforms in PNG for Legal Practitioners
PNGCJE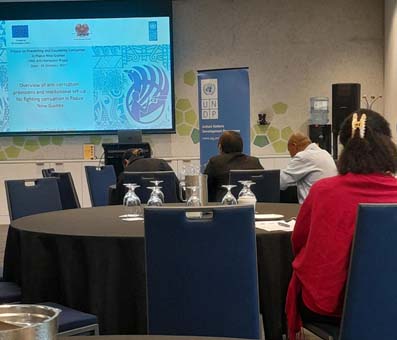 The Papua New Guinea Anti-Corruption Project, funded by the European Union and implemented by UNDP and UNODC, aims to strengthen the Government's commitment and capacity to address corruption in the country. The project further aims to effectively progress the Sustainable Development Goals for the benefit of all Papua New Guineans and to support the network of Non-State Actors in their anti-corruption efforts.
As part of this project, the PNGCJE with the support of the UNDP and the Department of Justice and Attorney General, recently conducted a training on Anti-Corruption Legislative Reforms for legal practitioners from the private and public sector agencies around Port Moresby.
The UNDP anti-corruption legislation expert on the EU-funded PNG Anti-Corruption Project, Mr. Drago Kos, was the facilitator of this program.
Mr. Kos is an internationally recognized anti-corruption expert and current Chair of the Organization for Economic Cooperation and Development Anti-Corruption Network for Eastern Europe and Central Asia (ACN) monitoring mechanism known as IAP.
The one-day training held at the Hilton Hotel was aimed at providing awareness on international best practices for implementing anti-corruption frameworks.
The program sessions included:
• an overview of the legislative provisions and institutional set-up for fighting corruption;
• loopholes in existing anti-corruption legal and organizational framework;
• prioritization of legislative and organizational measures needed to achieve full compliance with international anti-corruption standards; and
• special responsibilities of legal professionals in the national anti-corruption reform.
The anti-corruption training was coordinated by the PNGCJE Program Officer for lay judicial officers, Ms. Susie Vaieke and supported by UNDP's Chief Technical Advisor, Dr. Alma Sedlar and her team.