Pacific Court Officers Attend Fraud and Corruption workshop
PNGCJE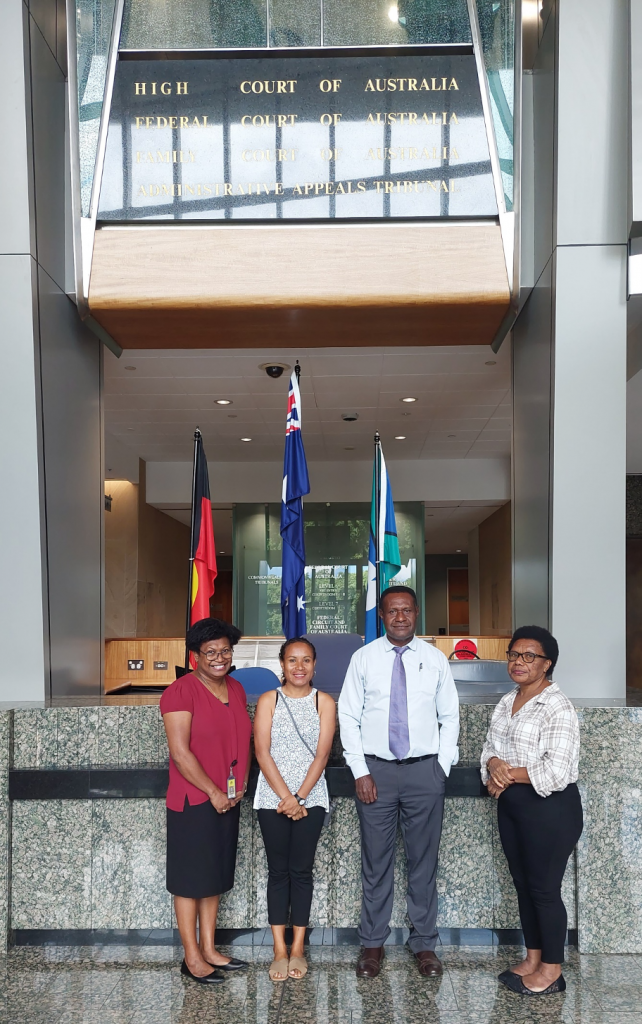 Four Court officers from the PNG Judiciary attended a week-long workshop on the topic, 'Managing and Reporting on Fraud and Corruption Cases' with thirty other Pacific Island Court officers at the Federal Court of Australia in Brisbane, Queensland.
During the workshop, facilitators gave sessions relating to Fraud and Corruption cases which included Ethics, Fraud, Bribery, Procedural steps and documents, Roles in the process and Case Management Systems.
The training was designed to assist registrars, judges' associates and other Court officers who directly support the Judges to manage fraud and corruption-related cases.
Two of the facilitators from the PNG Judiciary were Assistant Registrar of the National Court, Ms Victoria Belo, and PNG Centre for Judicial Excellence (PNGCJE) Program Officer, Mrs Stacey Levakia-Wali. Participating officers from the PNG Judiciary included Ms Janet Kekei from the National Court Crimes Registry and Mr Thomas Sigali, Appeals and Review, Supreme Court Registry.
Regional program officer for the Pacific Islands and co-facilitator of the workshop, Mrs Levakia-Wali said the program was hosted by the Pacific Judicial Integrity Program (PJIP) in a joint venture with PNG Centre for Judicial Excellence.
"PJIP aims to strengthen partner courts and justice systems that may be vulnerable to corruption by delivering a suite of Pacific-focused training and development activities to support judicial and court officers preside over, manage and report on corruption-related cases in their own jurisdictions," Mrs Levakia-Wali.
Another key facilitator was Ms Belo who is in charge of the Fraud and Corruption Track at the PNG National Court Registry. Her presentation was based on the procedural practices that are in place in the Fraud and Corruption Track including how data is captured in the case management system (CMS) and made accessible to Judges for hearing of cases.
"With our current CMS, it is now easier to extract data for reporting purposes which in turn makes it efficient for Judges to access information relating to cases.
"Meeting my counterparts in the Pacific has allowed me to understand their challenges and compare their experiences to what we face in Papua New Guinea".
"From the workshop it became clear to me that unfortunately other Pacific Island countries do not have advanced case management systems, criminal court processes as well as Court Practice Rules. The PNG Judiciary will need to assist them in establishing and developing their case management systems and processes," Ms Belo said.
Workshop participant and registry officer, Ms Kekei said she was grateful for the opportunity to be part of the workshop as it has broadened her knowledge on cases related to fraud and corruption offences, and how she can effectively carry out her tasks as a court registry officer.
"I also learned from the Australian Court registrars who were co-facilitators of the workshop about how they manage their fraud and corruption cases."
"The case scenario presentations were the highlights of the workshop, because they got each participant to openly share their experiences," Ms Kekei added.
Supreme Court Registry officer Mr. Sigali also shared the same sentiments as Ms Kekei. He thanked the PNGCJE and PJIP for hosting the workshop and said, "the topics covered during the workshop was very informative especially learning from Court registrars in Australia on how they manage fraud and corruption cases."
"I enjoyed the group sharing sessions as it was from these discussions that we were able to take home key lessons to improve our service to Court users," he said.
Mrs Levakia-Wali said the workshop was the second judicial education and training program covering Fraud and Corruption. The first was jointly hosted by PNGCJE and PJIP in Port Moresby late last year for Judges in Papua New Guinea and the Pacific region.